Bloody Ben's Bloody Mary Mix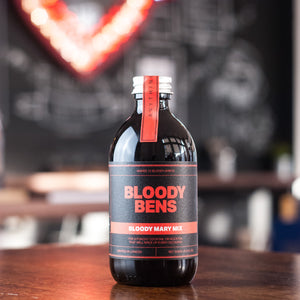 Make perfect Bloody Marys every time - just add 25ml to tomato juice for a Virgin Mary, and add Gin/Vodka for a Bloody Mary Cocktail.
Created and perfected at Ben's Canteen, a neighbourhood hangout in SW London which was famous for Brunch.
The Mix was borne out of a frustration that Bloody Marys are generally badly made and don't taste great. Or are really hard to make at home because you don't have all the ingredients. Bloody Bens Bloody Mary Mix solves these problems, it's the crucial ingredient for perfect Bloody Marys.
A magnificent mix of 22 herbs and spices, this one bottle will make 12 Virgin/Bloody Marys. But definitely also add a splash to spag bol, shakshuka, and marinades.
300ml, glass bottle.
Contains celery salt.