Chocolate Tree Winterspice Dark Chocolate Bar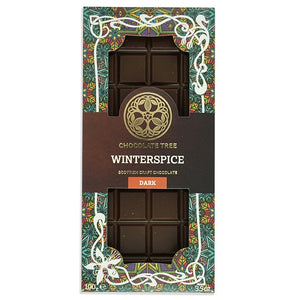 Dark organic chocolate blended with balanced German gingerbread spices and citrus.
40% Cocoa Content
Chocolate Tree sources organic cacao from Peru, where the cacao trees grow amongst other plants and wildlife. They work directly with cooperatives who ensure a high price is paid to farmers.
100g, recyclable and compostable packaging
Ingredients: cocoa mass, sugar, cocoa butter; spices (1%) : Cinnamon, nutmeg, cardamom, ginger, aniseed, cloves; orange oil, lemon oil