White Mausu Black Bean Rayu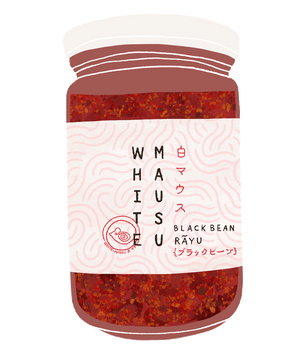 Devilishly salty and definitely spice forward. Fermented Chinese Black Beans have a uniquely savoury and satisfying flavour like no other. With fruity notes above a rich, miso-like base, this cheeky condiment can add a SPICY! kick to just about any dish. Splash it liberally on your eggs, rice, salads, and stews. Soup up your soups or top off your tofu. Basically, put it on everything. This stuff's a game changer.

Ingredients: Sunflower Oil, Chinese Black Beans (Soya), Black Sesame Seeds, Gochugaru, Chili Flake, Tamari, Crispy Garlic, Sichuan Pepper, Organic Raw Cane Sugar, Sea Salt, Cinnamon, Star Anise.
Suitable for vegans and vegetarians