The Sizzling Guzzl Hot Box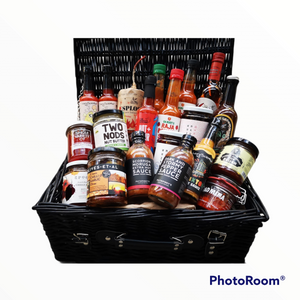 New for Christmas 2021 is the Guzzl Hot Box. 
Can't get enough of the hot stuff? Well this is definitely the thing for you. 
Choose a Hamper Box or wicker hamper filled with the best hot sauces, chilli jams and spectacuarly spicy condiments to tingle every tongue and pleasure every palate. 
Products are from the best small independent producers including Single Variety, Pat & Pinky's, Lazy Scientist, Raja Bonnet, Tubby Tom's and Haynes Gourmet. 
We choose the exact contents in your Hot Box depending on season and availability. But rest assured, you will get an incredibly selection of the best hot treats!
Please note the cost of the hampers themselves are built into the price. The wicker hampers are a bit more expensive than the hamper boxes.