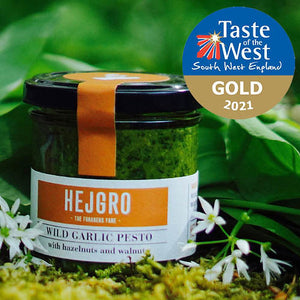 Winner of a golden Taste of the West award 2021. 
Wild Garlic foraged in Frome combined with cold pressed extra virgin rapeseed oil grown and produced in Somerset, both hazelnuts and walnuts, and just a dash of apple cider vinegar, to give a uniquely British twist to a classic condiment. 
Add it to sour cream or mayo to liven up a dip, or accompany cheeses on crackers or a range of bite-sized appetizers for your party. 
This raw pesto has a great garlicky kick, but mellows down when cooked. Swirling it into fresh pasta makes the quickest exotic / local dinner guaranteed to impress. It also makes incredibly tasty fried mushrooms, and a great pizza base topping. 
Ingredients: Wild Garlic** (47%), cold pressed rapeseed oil, hazelnuts* (8%), walnuts* (8%), apple cider vinegar*, sea salt, coconut palm sugar*.
*certified organic, **foraged
130g, glass jar and metal lid.