Bloody Bens Spiced Tomato Juice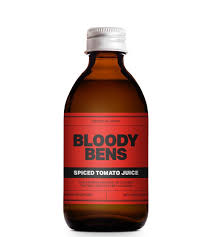 Ready to serve spiced tomato juice – pour over ice for the best Virgin Mary, or add vodka or gin for a great Bloody Mary.
Shake awake your bottle before pouring. No need to add any tabasco or hot sauce to this spiced tomato juice.
Created and perfected at Ben's Canteen, in SW London. A neighbourhood favourite, sadly they couldn't reopen after Christmas 2020 but their brunch legacy lives on in their great drinks.
200ml, recyclable glass bottle.
Ingredients: water, tomato puree (11%), Worcester sauce (water, spirit vinegar, sugar, molasses, onion puree, garlic puree, cayenne pepper, clove powder, citric acid), balsamic vinegar, hot sauce (2%) (cayenne peppers, distilled vinegar, water, salt, garlic powder), salt, garlic, horseradish (1%), capers, herbs, citric acid, celery salt (0.1%), xantham gum.