Pendragon Hot Chocolate Flakes 250g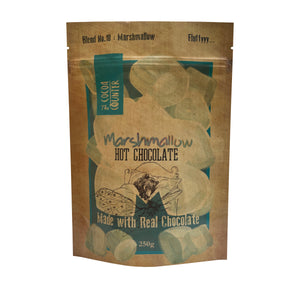 As the numbers of artisan coffee roasters and tea merchants increases each year, hot chocolate has been left behind. However, we intend to change that.
Before cocoa powder was invented, all hot chocolates were made with real, indulgent chocolate. But then... along came cocoa powder, which was cheap to manufacture but poor in flavour. Going back to basics, all of our products use real chocolate just waiting to be melted. Because of this, our drinks are much more creamy and luxurious than anything you are used to.
Our recipes are inspired by traditional 'Parisian Hot Chocolates' which have traditionally been sold in and among the old street of Paris. As a result, we use blends of real, decadent Belgian chocolate with a little sugar to enhance and bolden the flavour. This is how hot chocolate should be...
If you want to see how to make this decadent drink as well as its Viennese, Genevan and Spanish cousins, then visit our Serving Suggestions guide.
Each pack contains 250g (roughly 8 portions) and have a shelf life of around 1 year. The chocolate has been finely grated so melts easily.