CASTLEWOOD BRUT RESERVE NV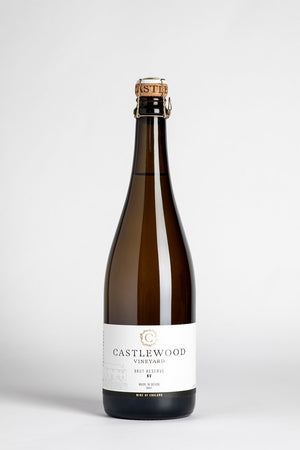 Our Brut Reserve blend often comprises a proportion of 'non classic varietals' Seyval Blanc, Madeline Angevine and Reichensteiner and Bacchus. Germanic in origin, these varieties often ripen before the noble Pinot Noir, Chardonnay and Pinot Meunier.
After basket-style pressing the must is cold fermented in small-scale vats. The wine has often fermented to dryness before its remaining constituent grapes have even been harvested. Assemblage takes place the following year enabling a balance of acidity and complexity between each complimenting grape variety.
Castlewood sparkling wines are bottled without fining or filtration and undergo traditional method secondary fermentation for a minimum of 24 months before release.
TASTING NOTES
A Non Vintage blend comprising  Chardonnay, Bacchus and Seyval Blanc. Clear pale lemon with a delicate bead. Bright crunchy apple and English hedgerow with deep refreshing citrus undertones. Subtle oxidative notes and complexity on the palate. Crisp acidity and long lasting creamy finish.
Perfect for toasting or with any seafood dish.

ACIDITY 8G/L ABV 12% RESIDUAL SUGAR 7G/L