CASTLEWOOD ROSÉ BRUT 2020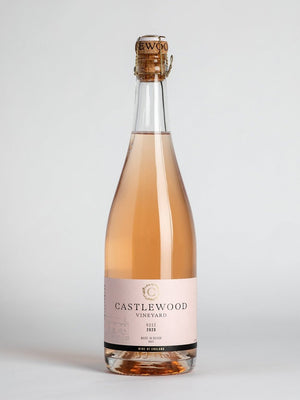 The Rosé blend has only been introduced since the 2013 vintage, comprising Pinot Noir (both Champagne & Burgundy clones) and Pinot Meunier. On occasional years the ' non classic varietals' and some reserve wine may be included in the blend.
2020 was an exceptional year providing ripe balanced fruit, allowing us to declare this Rosé a vintage wine. The inclusion of Burgundy clone Pinot Noir provides a sumptious back bone to this wine and a more balanced acidity allowing us to integrate a naturally lower dosage.
Like all Castlewood sparkling wines, the Rosé is bottled unfined & unfiltered and undergoes traditional method secondary fermentation for a minimum of 24 months before release.
TASTING NOTES

A traditional Rosé blend comprising Pinot Noir (70%) & Pinot Meunier (30%) from the fabulous 2020 Vintage. Delicate salmon pink hues, fine persistent bead. Strawberries and cream, succulent but not sweet. Fresh red berries and crunchy red apples with crisp acidity and mouthwatering finish. Perfect as an aperitif.

ACIDITY 9.3G/L ABV 12% RESIDUAL SUGAR 4G/L