Chocolate Tree Fruit and Nut Milk Chocolate Bar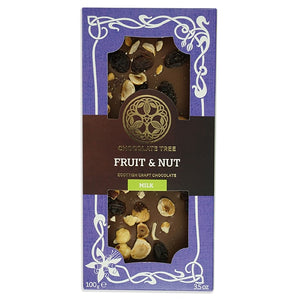 Classic British combination of raisins, hazelnuts and milk chocolate
45% Cocoa Content
Chocolate Tree sources organic cacao from Peru, where the cacao trees grow amongst other plants and wildlife. We work directly with cooperatives who ensure a high price is paid to farmers.
Ingredients: cane sugar, cocoa butter, whole MILK powder, cocoa mass, HAZELNUTS (8%), raisins (7%)
100g, recyclable card and compostable "plastic"