Island Bakery Biscuit Tins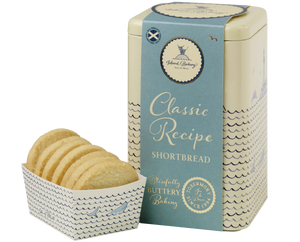 We're gradually inviting incredible Island Bakery biscuits to Guzzl. These beautifully designed keepsake tins feature a lively Hebridean seascape and Island Bakery's own highland cow MacMoo rowing a boat full of biscuits.
These biscuit tins make a perfect gift (or treat for yourself!).
First up, Peanut, Choc Chip and Toffee.
Enticing nuggets of toffee, crunchy peanuts and melt-in-the-mouth dark chocolate chips combine in our all-butter shortbread. The flavour profile delivers a biscuity interpretation of a popular chocolate bar (guess which one?!). It certainly wouldn't take a marathon effort to over indulge in these!
Of course we can't bring you a Scottish bakery and not include Classic Shortbread Biscuits. These bakers skillfully blend four basic ingredients, to deliver just the right balance of crunch, sweetness and the rich butter taste you can only get from an all-butter recipe. Less is more when it comes to shortbread!
The Lemons Melts are considered Very Important Biscuits. The zesty lemon biscuit is the perfect foil for the rich, sweet blanket of white chocolate, and the melt in the mouth texture adds to the joy.