Lucocoa Chocolate Bars 50g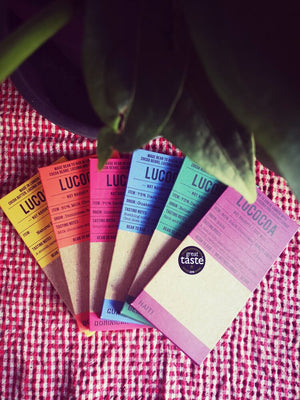 At Lucocoa, we make our chocolate by hand, from scratch, by importing the best beans from around the world and turning them into chocolate in our factory in Bermondsey, Southeast London.
We make our chocolate by hand for several reasons.
The chocolate supply chain is broken. Child and slave labour are still prevalent on many cocoa-growing farms, which is often ignored by big producers. But not by us. We are not a chocolate company that thinks this is okay. We know and trust all our suppliers – they are our partners, and together we are kick-starting a chocolate revolution where our farmers get paid much more than Fair Trade and Rainforest Alliance standards. We are proof that this is possible. 
- 60% Dark Chocolate - Haiti
- 73% Dark Chocolate - Guatemala
- 70% Dark Chocolate - Dominican Republic
-73% Dark Chocolate - Belize
- Matcha Tea Chocolate
- Natural Blonde Chocolate