PIQUENTUM, CRNO VINO TERAN, 2020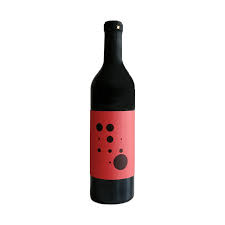 GRAPE/BLEND 100% Teran.
FOOD PAIRING Meat, tuna.
GROWER PROFILE & SHORT HISTORY This is a tale of a son of a Frenchwoman and an Istrian father, growing native Croatian grapes and making them in an old Mussolini-era concrete water tank. Born in French Basque Country (Jurançon) in the foothills of the Pyrenees, Dimitri Brečević studied oenology in France and then worked at Domaine de Chevalier in addition to working harvests in Australia, New Zealand, Bordeaux, and Burgundy. In 2004 he decided to invest himself in his father's homeland of Istria near the town of Buzet. (MICRO) CLIMATE Istria is the northern edge of Mediterranean, and in the winter, it can be very cold when the strong bura wind blows from the north. In September, when usually vintage takes place, it is chilly during the night and this furthermore helps to maintain nice acidity and aromas in the grapes. The most significant white grape is the Istrian Malvazjia, which occupies approximately two thirds of the entire grapevine plantations extending over this area.
TERROIRS (TYPE OF SOIL, EXPOSITION, ALTITUDE) White clay (flysch) on limestone.
VITICULTURE Organic.
YIELDS: 34 hl/ha. VINIFICATION • Manual harvested • Destemmed • Stainless vat and wood • 20 days maceration • Indigenous yeast • Ambient fermentation • Nature of maturation – barrel of 225 and 500 liters from 1 to 10 years • Malolactic spontaneous in wood • No filtration • No fining