Brixton Brewery - Atlantic Pale Ale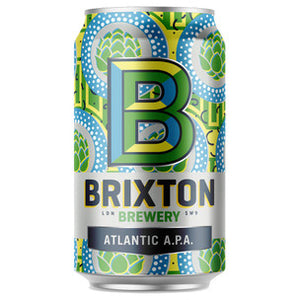 Brixton's famous street market winds down Atlantic Road, brimming with exotic wares. Bold aromas and flavours compete for passing attention, a bit like our Atlantic A.P.A. A deluge of aroma hops after the boil and generous dry hopping deliver a juicy tropical flavour. Extra Pale malt keeps it crisp and lets the hops rule. 330ml, can.
ALLERGY ADVICE: For allergens and dietary requirements please see product label or contact us at enquiries@sozzl.co.uk
---
STYLE + TASTE:
American Pale Ale – Bursts of citrus and tropical fruit. Bold, modern and refreshing.
ABV: 5.4%
HOPS: Magnum,Citra, Simcoe, Galaxy
MALTS: Simpsons Maris Otter Low Colour Pale, Dextrin.