En Root's Original Raja Bonnet hot sauce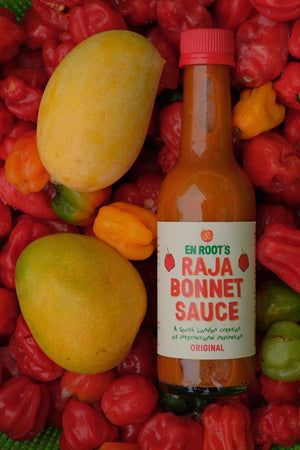 En Root is a Brixton institution. This hot sauce has a cult following and represents a fusion of flavours from the Caribbean and India. 
Fresh red scotch boonet chillies, Kesar mango and Gujarat spices feature strongly.
Seriously hot, seriously tasty and regularly described as one of the best chilli sauces in the country.
Ingredients: Water, Tomatoes, Red Onions, lemon juice, white wine vinegar, Kesar mango pulp, scotch bonnet chillies (8%), red pepper, tomato puree, dates, rapeseed oil, garlic, salt, black pepper, dhana jeera powder, turmeric. 
Suitable for vegans and vegetarians.