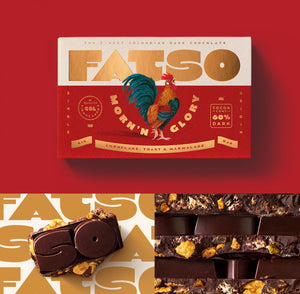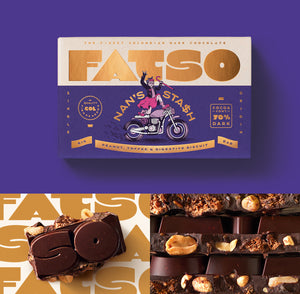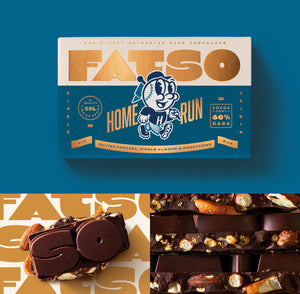 Fatso Chocolate bars are made with single-origin, Fino de Aroma certified cacao from our friends at Luker's Farm in Colombia. They're packed with uncompromising ingredients to deliver unbelievable flavour combos. Oh, and they poke a little fun along the way.
Morn'n Glory
Crunchy cornflakes with a side of orange marmalade toast, all smothered in delicious dark chocolate. Rise and shine!
Nan's Stash
Nans are the OGs of sneaky snacking. This chocolate bar is packed with buttery biscuits, crunchy peanuts and chewy toffee. Teeth or no teeth this will get demolished.
Home Run
This bar is an ode to a baseball snack staple - a heavy hitting combo of salted pretzels, whole almonds and honeycomb really knocks it outta the park! If eating were a sport, Fatsos are training to be numero uno.

150g, compostable wrap, recyclable card box.