London Borough of Jam - Raspberry & Hibiscus Flower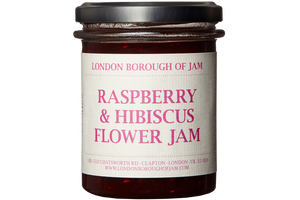 Sweet, summery Raspberries are cooked with dried Hibiscus Flowers creating a floral sharp jam perfect for breakfast. The Hibiscus adds to the bright pink colour too. 
Lillie O'Brien established London Borough of Jam in 2011, following five years as Pastry Chef at the esteemed St John Bread & Wine. LBJ preserves are made in small batches and cooked for a shorter time compared to generic brands. The flavour is honest and unadulterated.
Ingredients: Raspberries, unrefined cane sugar, dried hibiscus flowers & lemon juice.
220g, glass jar, metal lid.