London Borough of Jam - Lemon & Vanilla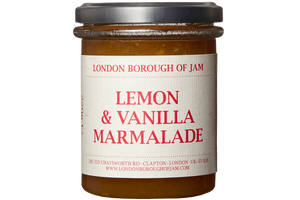 This is a Marmalade for people who don't like bitter citrus.
Cooked with whole Vanilla pods, this is a thick cut deluxe marmalade. Expect nice chewy pieces of the pod cooked throughout. 
Lillie O'Brien established London Borough of Jam in 2011, following five years as Pastry Chef at the esteemed St John Bread & Wine. LBJ preserves are made in small batches and cooked for a shorter time compared to generic brands. When tasting LBJ preserves the fruit will always come first, smoothly followed by the sugar and a special complimentary flavour.
Ingredients: Unrefined cane sugar, lemons, lemon juice, vanilla beans & sea salt.
220g, glass jar, metal lid.