Nigel Barrow's Traditional Christmas Pudding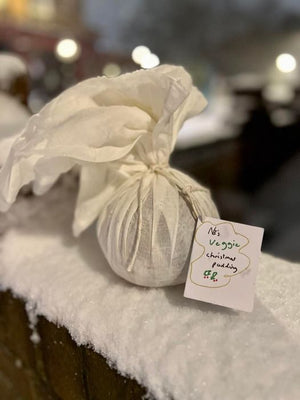 Nigel Barrow hand makes his Christmas puddings in Dalston, where he has built up a reputation for producing the capitals finest Christmas dessert. He packs his puddings full of traditional fruits and ages it in French brandy - just like it should be.

Nigel's pudding is a must for every Christmas spread -  and if your too full, don't worry, it will be even better next year!

Supplied just in the muslin needed for steaming, and are perfect: stylish, rustic, retro, and waste free.

CONTAINS NUTS Approx. 2lb (0.9Kg)


 
Ingredients:
Sultanas, currants, brown sugar, free range eggs, raisins, beef suet, flour, apple, carrot, walnuts, mixed peel, black treacle, french brandy, breadcrumbs, spices, bicarbonate of soad, salt.
Contains:
Nuts, Gluten, Eggs.