Prosecco Organic ERA Extra Dry N.V. 11%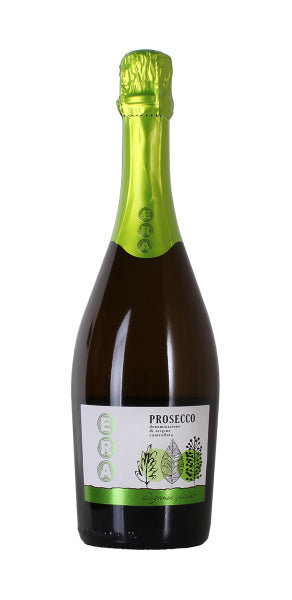 Region
With a varied geography, many different micro-climates and a vast array of grape varieties and viticultural traditions, it is not surprising that Italy can offer a full range of sparkling wine in all styles and quality. The Spumante wines of Piedmont, centred around the town of Asti, are the best known; These are usually medium dry and sweet sparkling wines made by the tank method from Moscato grapes. The drier Prosecco Spumante is produced in the Veneto region from Glera grapes using the same tank or transfer method. The cooler Alpine regions are the source of Italy`s finer method traditional sparkling wines, often including blends of Chardonnay, Pinot Blanc and Pinot Noir. Tank fermented sparkling wines are produced in many other of Italy`s warmer regions.
Producer
The company was born as a retailer in 1928 in the Veneto region for sales of wines in casks and demi-johns to restaurants and small retailers. The company is now run by the third generation and from their roots in Veneto they now have a portfolio of wines produced in some of Italy's finest regions. Botter pride themselves on their focus of sustainability, going beyond reducing emissions, production of waste and non-renewable energy usage and taking a responsible approach for the whole production chain.
Tasting Notes
Era Prosecco is produced from organically grown Glera grapes grown in the area around Treviso. This wine has a delicate bouquet with fruity and floral notes of acacia and honeysuckle. A palate of peach, green apple and fresh citrus flavours which balance with a racing acidity. Fine and creamy bubbles give a smooth finish.
Food
An excellent aperitif and accompaniment to olives, crudites, cold meats, light seafood or grilled vegetables.